For Such A Time As This, mini Sermon
AT THE SOUTHERN BAPTIST CONVENTION ANNUAL MEETING
I am thankful for the brave men and women who are tirelessly standing up against abuse in the Southern Baptist Convention. I had the great honor of delivering a mini-sermon, inspired by the book of Esther, outside of the SBC annual meeting at the For Such A Time As this Rally. You will find the transcript of this sermon below along with other resources.
Please visit The Courage Conference to learn more about my event in October for survivors of abuse and those who love them.
(Pastor Gricel Medina's Holy Spirit inspired talk sadly was not properly recorded, likely due to overheated recording devices. Find her articles here.)
Follow Rally Speakers/Organizers on social media:
Ashley Easter, Cheryl Summers (Founder and Rally Organizer), Pastor Gricel Medina, Dr. Christy Sim, Pastor Wade Burleson, Mary DeMuth, Kyle Howard, Sheila Gregoire (online speaker).
A special thank you to Ryan Ashton for creating the logo and signs for the event and so much more!
Ministry Leader Document Provided at Rally
Media Mentions: (let me know what I missed)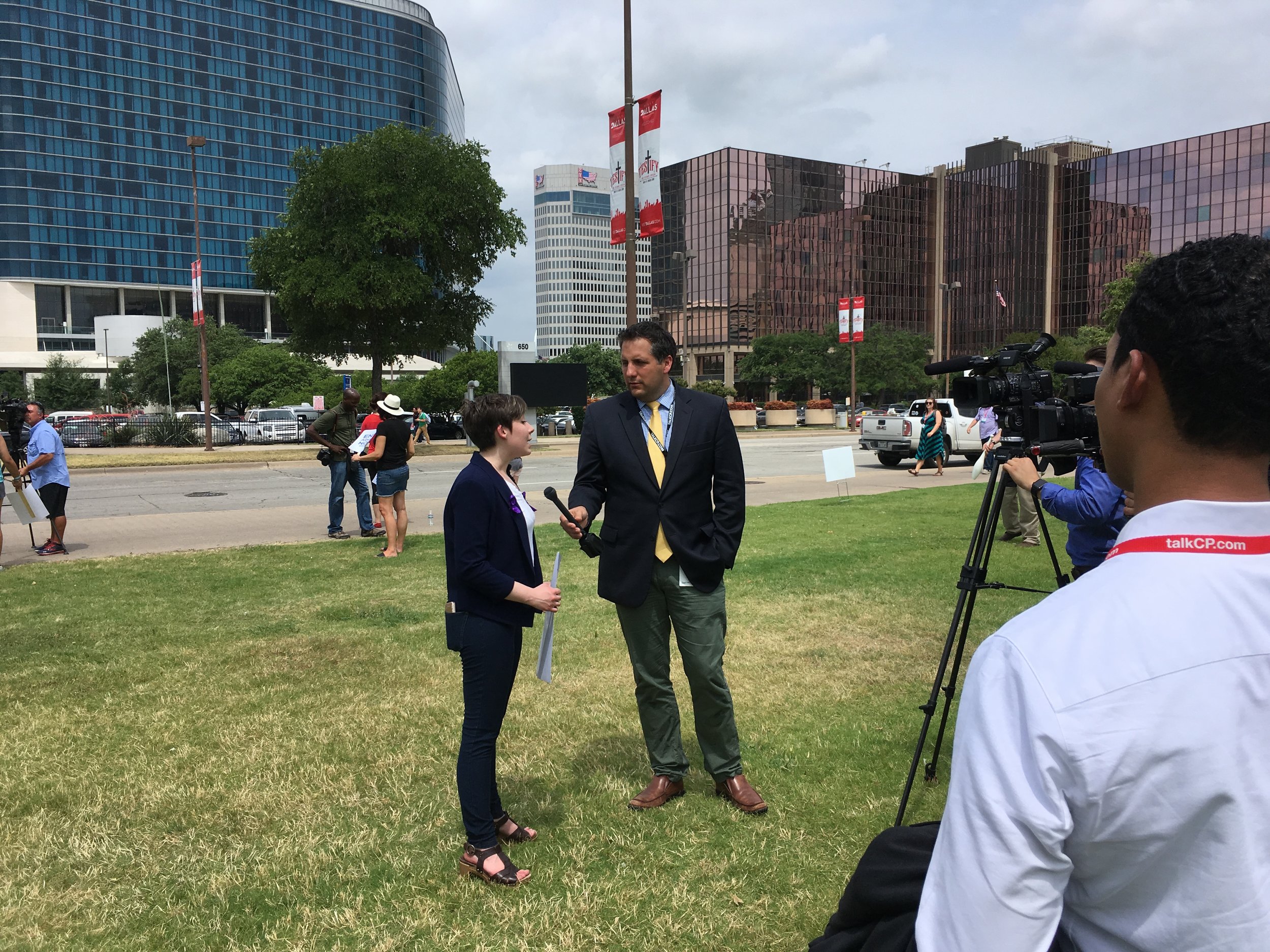 Many of these photos are from Christy Sim. If you have more please share them with me.
For Such A Time As This (mini sermon)
Today we find courage in the story of Esther as she walked into the king's throne room, uninvited, to attempt to stop a genocide about to engulf her people.
What we often forget to mention in our bible studies and sermons about Esther is that she was an abuse victim. Esther was kidnapped from her home and sex trafficked into the king's harem along with many other women.
Though she was queen, when Esther walked into that courtroom to confront the king, she did not do so as someone given equal respect by the powerful men in the room. No, as a woman and as a victim of abuse her voice was viewed as less than the men around her.
When Esther walked into that throne room she disobeyed her husband, a crime her predecessor, Queen Vashti another abuse survivor, had just been severely punished for.
Esther knew this outcome was a possibility for her too and she was willing to take that risk, not only for herself but on behalf of others. Just like the #MeToo and #ChurchToo victims of today Esther took an unacceptable place of initiation, leadership, influence and acted as a protector for her people within a male dominate, patriarchal culture.
God called Esther. God called a woman. Despite culture, law and marital relationship.
God called Esther, God called Debora, God called Mary, and Hulda and Lydia and Pricilla and Phoebe and the Apostle Junia and God calls you. God calls YOU!
God calls you not based on sex or gender. God isn't concerned about what a church denomination says your place is as a woman. God isn't concerned about the whether you will be perceived as usurping a man's authority by speaking out.
No, God is more concerned about justice for the abused and marginalized.
Whether you are a man or a woman God wants to partner YOU to bring about this Divine Justice. God wants YOU to speak out on behalf of women, victims and survivors whether or not you are invited, condoned, are given a seat at the table or a voice on the floor.
The book of Esther says 'And who knows but that you have come to your position for such a time as this?"
I believe each and everyone of you here at this rally were born for such a time as this! YOU were BORN for this.
Because for a long time we have been silently suffering, groaning under the weight of abuse and inflicted pain. We are captives domestic violence, sexual abuse and misogyny, silenced by establishments who refuse to hear our pain.
But hear this…
Change is coming and it is coming strong. Like a rushing tide it is sure, and it will flood every hidden place and seep into every darkened crevice of unseen oppression. Nothing in it's path will escape from this swell of justice.
So, to the abused, the oppressed, and the suffering: You are NOT forgotten. Hold on!!! We're coming for you! And our arms are open with love and healing. Take a deep breath and breath in the aroma of freedom.
To those who are inflicting the oppression, the abuse, and the silencing. Watch out, because we see you too, and Justice is coming.
And we know we do not wrestle against flesh and blood, but against the rulers, against the authorities, against the powers of this dark world.
We charging forward with our spiritual armor, all of us, women and men, leading the charge together through the Power of the holy spirit, to break the chains of abuse, oppression, and darkness.
We are taking on the mantle of our mothers, the freedom fighters of their day, and charging forward in ways they were never able to touch.
We are shaking it up and breaking it down. The walls of shame and secrecy are beginning to crack. Inside the dark confines of oppression, light is being shed.
Look out you oppressors, you who abuse and malign God's image bearers.
This is the Justice Generation. We put our hands up and say, "No". No to abuse, No to silencing, no to coverups, no to religiously-sanctioned discrimination. Not on our watch. Oh, no. Not on our watch.
We've felt first hand the effects of abuse and prejudice. We've heard the pains of our sisters crying out for basic human dignity. And we will not be silent until they are all free.
You and I, like Esther, were born for a time like this! We were BORN for this.
This is the Justice Generation and we will speak out with COURAGE!!!!